Array Networks SpeedCore

Application Delivery Networking Platform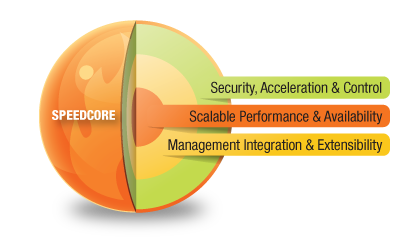 Array Networks SpeedCores are not orderable separately from the APV Hardware.
Array Products
Array Networks Products
Array Networks SpeedCore
#speedcore
Get a Quote!
Overview:
Array SpeedCore is a software-based application delivery networking platform engineered to secure, accelerate and control high-volume data traffic driven by explosive growth in the areas of mobility, virtualization and cloud computing.
Now more than ever, CIOs and IT must support secure, real-time connectivity between applications and any user, anywhere, on any device to meet the growing demands of customers, employees and partners. With usage rapidly multiplying, delivering applications in a cost-effective manner aligned with revenues and productivity has become a business imperative.
Built from the ground up to leverage Array's parallelized 64-bit multi-core architecture, the SpeedCore ADN platform delivers the performance, security and availability, plus the control and data center intelligence needed to profitably scale applications to any IP-enabled device, anywhere in the world. Capable of generating unmatched value and economies-of-scale, SpeedCore is today's application delivery networking platform of choice for capitalizing on the tidal wave of data being unleashed by the mobile Internet and next-generation services.
The SpeedCore application delivery networking platform powers all Array products from APV Series Application Delivery Controllers to AG Series Secure Access Gateways to DesktopDirect™, an innovative remote desktop access solution. Conceived as a holistic platform for application delivery, SpeedCore outperforms on all fronts, from the data center to the end user. Flexibly packaged and exposed on purpose-built Array appliances, SpeedCore enables an unbeatable mix of price, performance and features for a wide range of application delivery networking requirements.
Features:
Application Delivery Networking Platform Highlights and Benefits
Enables anywhere-to-anywhere connectivity for the ultimate in worker productivity and revenue-generating service creation
Cloud-scale performance and capacity for application security, optimization and control
Demonstrable security for legal and compliance policies
Up to 500% improvement in application performance
CPU-based (versus ASIC-based) for superior performance and fast, easy feature upgrades
99.999% uptime and guaranteed SLAs for customers and business-critical applications
Agile and extensible software architecture aligned with rapid data center evolution
Bidirectional integration with management and monitoring systems for optimizing the performance of traditional and virtualized data center technology
70% less CapEx and OpEx for purchasing, deploying and managing application delivery
The Platform that Delivers
SpeedCore powers all Array products from our APV Series Application Delivery Controllers to our SPX Series Universal Access Controllers to DesktopDirect™, our innovative remote desktop access solution. Conceived as a holistic platform for application delivery, SpeedCore outperforms on all fronts, from the data center to the end user: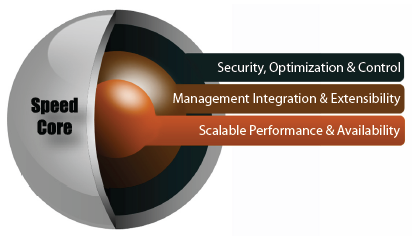 Scalable Performance and Availability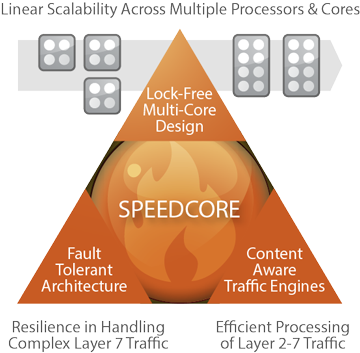 SpeedCore is developed around a parallelized multi-CPU, multi-core architecture intelligently designed to achieve breakthrough scalability and performance for application delivery. A lock-free design provides linear scalability across multiple processors and cores, a fault-tolerant architecture introduces rock-solid stability and resilience in handling complex Layer 7 traffic, and content-aware packet processing produces unparalleled efficiency for Layer 2-7 traffic:
This phenomenal degree of scalability translates to over 60Gbps throughput and 20M connections, up to 10Gbps SSL throughput and 45K SSL transactions per second and up to 64K concurrent secure access connections from a single appliance. What's more, it allows SpeedCore to unleash unmatched price-performance for any size deployment from the small enterprise to the largest cloud environment.
To finish first, one must first finish; speed should never compromise reliability. For close to ten years, Array has delivered rock-solid stability at more than 5000 of the world's premier enterprises. Our proven load balancing, traffic management and content routing now do for virtualized infrastructure what they once pioneered for traditional servers, ensuring five-nines availability and 24/7 application uptime. Where others top out SpeedCore excels, supporting both traditional 1+1 redundant pairing and N+1 clustering to 32 units with active-active and active-passive failover for the ultimate in scalable performance and availability.
Management Integration and Extensibility
Speed is meaningless without control; accordingly, SpeedCore offers incredible configuration and management flexibility. CLI and Web interfaces are customizable to create streamlined, integrated command and control for Array systems throughout the network. Alternately, SNMP and XML-RPC allow for thirdparty and proprietary applications to commandeer monitoring and management with minimal effort.
Ultra-extensible SpeedCore APIs have allowed Array products to thrive in the constantly evolving data center ecosystem, creating solutions that automate and optimize application delivery infrastructure and lay the foundation for next-generation cloud and virtual computing.
Taking advantage of SpeedCore APIs, IT can marry application traffic intelligence with threat and risk management platforms, virtual management platforms, and custom solutions for reporting, billing, SLAs and vertical-specific requirements. From providing real-time usage intelligence and agile control for optimizing service delivery, utilization and cost to seamlessly interoperating with complementary application delivery technology, the power of extensible SpeedCore APIs is unprecedented.
Extensible SpeedCore management – hard to beat, easy to configure and deploy.
Security, Optimization & Control
End users want fast hassle-free applications, CSOs stake their career on security and CIOs must deliver results on budget, all of which make application delivery a tricky game with moving goal posts and competing requirements. SpeedCore takes aim at tradeoffs between security and the user experience by combining essential application delivery elements on a cost-effective platform with the horsepower to simultaneously drive superior usability, security and value.
From load balancing, to content switching, to app delivery, Array has been in the traffic management game from the start, giving IT managers command over application infrastructure for maximum reliability and efficiency. Today, SpeedCore offers more control and flexibility than ever before:
Specifications:
Security
Universal Access
Anywhere-to-anywhere – Layer 3, Web, client-server, thin-client and desktop access – network and application-level branch connectivity – OS and device support for fixed and mobile computing
Server-Side Security
Hardened OS for limiting exposure – network separation for defensive perimeters – application firewalls for inspecting encrypted data – virtual portals for partitioning users and networks
Client-Side Security
Host checking for end-point posture scans – adaptive policies for dynamic permission alteration – secure desktops for data leakage prevention – cache-cleaning for wiping session footprints
In-Transit Security
FIPS-compliant SSL encryption for protecting data traversing public and private networks
Identity-Based Access Control
Authentication for controlling network access – authorization for associating users with applications – auditing for billing and compliance
Optimization
SSL Acceleration
Offload compute-intensive encryption from servers to improve efficiency and response times
TCP Multiplexing
Aggregate and manage client connections to serve more users with less infrastructure
Dynamic Caching
Optimize hot content in flash memory, delivering Web 2.0 applications with maximum velocity
Selective Compression
Improve bandwidth utilization based on application, client and data pattern algorithms
High-Speed HTTP
Establish fast lanes for Layer 7 content, measurably accelerating the end-user experience
Control
Server Load Balancing
Manage Layer 2-7 traffic based on health checks, application metrics and application specific policies to achieve unparalleled availability, performance and control
Global Server Load Balancing
Distribute traffic between dispersed sites based on proximity, language, load response and times to optimize for performance and business continuity
Content Routing
Design delivery profiles mapping Layer 7 routing and switching rules to client request parameters
Application Persistence
Leverage application-fluent Layer 4 and Layer 7 persistence to maintain connectivity for business-critical applications and transactions
QoS & Rate Shaping
Manage WAN links and prioritize traffic to ensure SLAs and bandwidth for priority applications
Pricing Notes:
Pricing and product availability subject to change without notice.